We live in a world created by our concepts, ideas and conditioning. When we start to live from the hearth, we are not limited anymore by our boundaries. We are ready to serve the world without being a servant…
On the road
When we arrive by car in Vezelay, our Pakistani son of Lesvos get been smuggled to the mainland. He escaped for the 2nd time from deportation.
Montsegur – Cave of Bethlehem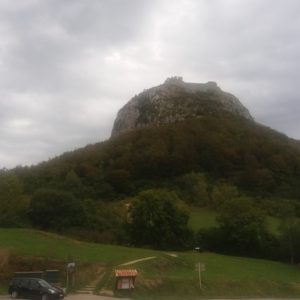 I stay at the top of the Montsegur and talk about the person who awakened my interest in the Cathars. As we descend the mountain at the end of the day, I met this person at the base. Miraculous or divine tuning…
Although the cave of Bethlehem is closed to tourists, we managed to find her flawlessly. She receives us with open arms…
---
Family
I met her only once. The daughter of my favourite nephew. On the 6th of May 2002, the day our politician Pim Fortuyn was murdered, she came to my lecture. We are connected forever. My books are in her bookcase. Limitless we enjoy each other's company at the Spanish border… ❤
Italy and migrants
In Ventimiglia, we meet hundreds of Africans. They are like rats in a trap. When they cross the border into France, they are picked up by the police and returned to Italy. Going home is also impossible. The residents are terrified from gatherings of black men, so the police is chasing them apart. Women and children are behind the church, protected by a fence.
'We dream of a rich and loving Europe,' Esna from Eritrea shares with us. 'Here we find out that it is not like that anymore. We miss our family and we start to realise that life in Africa is not that bad…'
– What we see at an individual level, also takes place nationwide. Nobody wants to take the responsibility for the situation at their front-door and they are pointing their finger at Europe…
Torino – Osama from Egypt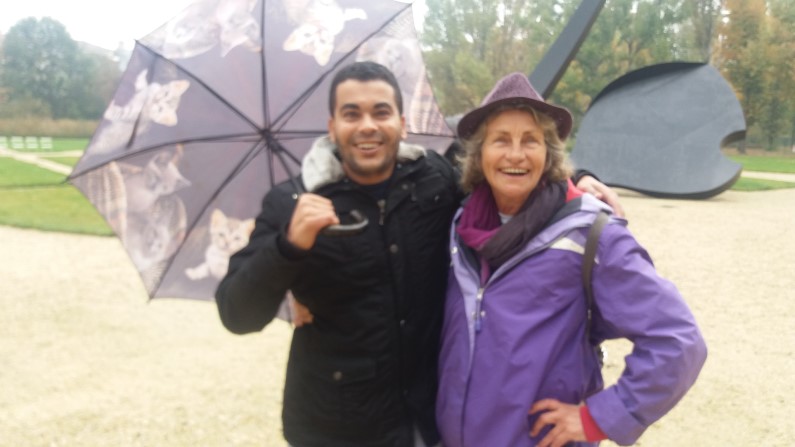 He escaped miraculously from Moria-camp in Lesvos and works at night in the kebab restaurant of his brother. The nightlife and the loss of his beloved ones has left its mark, but he radiates of joy when we meet. We take him to the Egyptian Museum. Finally he sees something of its own culture, which in Egypt is only for tourists…
Sham from Pakistan
He flew to Paris and was singled out by customs. He starts to understand that a rejected asylum in Greece makes it practically impossible to get asylum elsewhere in Europe…
Tsangwa from Kenya
Three weeks he was missing, my dearest friend of Kenya. I was very worried. With the help of friends he was found in a desperate condition. Empty-handed again, but thank God – he is alive…
Greece
We crossed by ferry from Ancona to Patras and came home in Greece. We have precious Greek and non-Greek encounters. In Athens we found our Syrian families back. But that is for later…
Grateful
Giri and I are very much okay. There is a huge inner space inside of me. No urge to do something or to be somewhere. Inside of me or outside, the energy does its job flawlessly. And even if it looks like doing nothing in the outside world of forms, every day the circle of love is more tangible…
Om Shanti – Let US be in PEACE…
Yasmin
NEW Video Yasmin ENGLISH about Non-duality and Refugees
– 'Love is All that IS'


---