An icy cold wind is blowing through Camp Moria. There are no heaters in the tents and people barely have warm clothes. There is only cold water. The laundry will not dry. Most toilets do not work. Winter has to start yet! Four people were killed because they wanted to warm their tent. I see pain in the eyes of the boys who tried to rescue them…
Boys from Syria are dancing to keep themselves warm. I dance with them. Africans gather wood for cooking their maize porridge and just to have a feeling of warmth. People spend hours in the queue to get food. Others do not like this and prepare their own food.
For many, this is hell. But there is certainly a reason why those people are here together. On the road to a world without borders people must first learn to tolerate and to respect each other regardless colour, culture or religion…
Cosmopolitan
If I should not have been a world citizen yet, I have become one in this week at Camp Moria. Detention Camp Moria feels like a large enclosed square where about 6.000 people staying in smaller and bigger tents. They are not allowed to do something. Some find a way out of hell. They help to clean, follow guitar lessons or walk to Mytilini to study English or Greek in Support Center Mosaic. A few, like a friend of Pakistan, is working as a volunteer.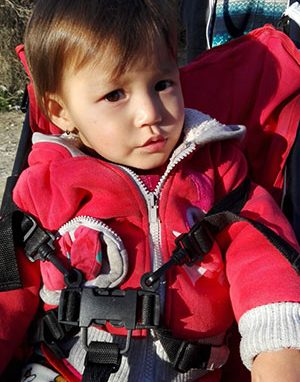 The children are as careless as anywhere. They have no problems with ethnicity and play with each other without worrying about the future. They seems to know that we cannot plan the future – that the future just unfolds itself by embracing THIS moment at the fullest…
Some are unshakable positive. Others immediately deposit all their woes on us. I stop this as quickly as possible. I do not like to be dragged into a pool of perdition. I want to look for opportunities. I am Loving, honest AND if necessary confronting: 'We did not ask for this. Europe is NOT waiting for you'. Every time the result is surprising. With a few exceptions, they put me all in their HEART.
---
After a cup of coffee in the tent of one of our Afghan friends, we meet for the 2nd time the Ethiopian community. Some of them still remember us from last August and even what I said to them. 'You're beautiful – you're powerful. Whatever happens, stay centered in your heart'. Some of the 250 Eritrea are more than eight months here. They speak perfect English and are very open minded. This in contrast with most Afrikaners who live in their own territory.
Registration
I hear heart-breaking stories. After 8 months, none of them is registered. A process which must take place within 25 days. Many Eritrea has wounds from gunshot as they tried to flee from the army. One of them is in a horrible state. They took him regularly to a medical post. It was always: 'Tomorrow'. The man is thin, he can barely walk and is in great pain.
Last March Doctors Without Borders have withdrawn from Camp Moria because they could not agree with the procedure of mass expulsion. We see heart-breaking situations. There seems to be hardly any medical care in the camp…
They look to us with a sparkling of hope in their eyes. Can we provide a lawyer or at the least can we ensure that their friend get the medical help he really needs? For this time we cannot, so we treat the man on the spot. He falls asleep on his seat and is more or less supported by his friends into his tent.
Many of these guys have fled from the army, because of murders within their families or because of other horrible things. They went to Israel and were given a work permit for five years. After five years, they were brought to Rwanda and given into the hands of smugglers. Through many wanderings they are here. No way they can go back home again…
We hear that the Greeks are not always that friendly to blacks. In certain cafes those guys were told that they only serve the Greeks…
Romance
Two lovers are kissing each other through the fences. They are from Eritrea and Ethiopia. Another couple lives together in a tent. For them Moria is a kind of a Paradise. Their government wants to separate them. But the people go beyond that and love each other…
Confrontation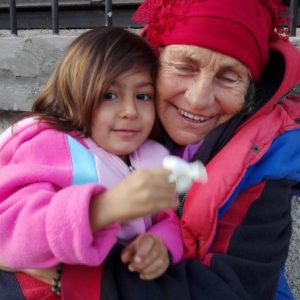 While the soldiers marches in with shields and batons, I talk to a guy from Palestine. He wants to show me pictures of the fires. I know it all – I am not interested. One of the boys was beaten by the soldiers. 'They are afraid of us.' 'Of course they are, you cannot understand this?' After an intense confrontation I embrace him. He has changed totally. 'Today my day is blessed. I met you' the guy tells me. 'I want to meet you again, here or in the Netherlands'. Also those guys are not registered yet. Unbelievable!
---
The Netherlands
Nias from Iraqi Kurdistan appeals to us in perfect Dutch. He worked for years in Rotterdam. His wife and children are in the Netherlands. He arranged everything to let his family come over to Kurdistan and was stopped by the IS. So he sold his house to return to his family in the Netherlands and was stopped in Lesvos. He loves to pay his own residence. Like many others…
Joy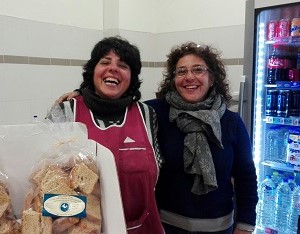 Our presence within the camp brings a sparkling of joy into the hearts of everyone we touch. Afterwards we share our experiences with our friends in Panagiouda and are overwhelmed with Greek kindness and sweetness. I feel extremely blessed that I am in the circumstances to meet all those beautiful souls, refugees as well as Greek…
---
Om Shanti
Yasmin – December 8, 2016
Chaos again
Since last week there is a new wave of refugees. Every day there arrive around 150 people in Lesvos and in Kos. Now they are brought in speedboats…
NEW Video Yasmin ENGLISH about Non-duality and Refugees
– 'Love is All that IS'