He grew up as an orphan. Like every man he got a combined military training. He collected enough points to go two years to college. He wanted to do economics, but was forced to be a teacher without payment. You remain on call for the army to the age of 70th. Until then you get no passport and cannot legally leave the country. 'I never knew how oppressed we were until I arrived in Israel…'
Suddenly the school is surrounded by soldiers. All 18 years old are recruited without food or water, without saying goodbye to their families and has to walk hundreds of kilometres to a remote area in the desert of Djibouti – where they got trained…
'I could not kill people and wanted to leave military service. We were locked up in a camp in the desert – compared to Moria. When we tried to escape they sent the dogs after us. We spent hours running and chased the dogs away with sticks'.
'Near the Sudan border is a small village. There are living nomads from Eritrea and Sudan. They kidnap people. With their help we got inside of Sudan. Eritreans working in Sudan sent us to the office of the United Nations. They brought us to a refugee camp similar to Moria'. 'I stayed there for five months. I had no work and no one could help me.'
Malak fled and found work at the Sudanese border with Eritrea. He got kidnapped, managed to escape and tried two times to stabbing the border to Khartoum, the capital of Sudan. He was picked up and brought back to the refugee camp.
He lost hope and went searching of smugglers who could take him to Israel. He reached the Sinai in Egypt. 'This area is ruled by the Mafia. They have nothing human and sell drugs and people.' Eventually he found a smuggler who promised him a safe route to Israel. With other refugees, they were pakked into three wooden boats, each with 25 people, to cross the Nile. Two of the three boats sank before his eyes and helplessly he had to watch while nearly 30 people drowned. 'I can still hear the screaming of the people. We cried. Fisherman heard our shouting. They picked us up from the water and took everything from us. Later we found another smuggler and continued our journey.' 'I was 2.5 months in the Sinaï desert. The Bedouin asked $ 3.500 ransom. 'The forced us to call our families to bring the money to a middleman in Eritrea. If you cannot get the money together, they cut one by one your fingers. 'I was lucky Yasmin'. 'We were beaten with sticks, got hardly any water and food and had to do construction work at night'.
'When I had finally had collected the money, I could enter Israël. The Israelis were nice. They wanted their government gave us a work permit. We received a residence permit for four years, got some jobs and got paid little.
To be free Malak saved all his money. After four years they did not get a residence permit. On December the 27th in 2015 they were not allowed to work any longer and had to enter the camp. Their friends were very worried.
They were given three options:
To stay forever in Israel in a closed camp in the desert. Complete care, room and board, but they were not allowed to leave the camp. 'According the Government we were ruining their Jewish culture.'
To return to Eritrea with $ 3.500 and a free airline ticket. Of course not an option.
Israël had signed a treaty with Rwanda: A free ticket, $ 3.500 and three days Hotel.
Malak knew a number of people had managed to enter Europe from Rwanda and he chose Rwanda. He gave his savings in hands from a good friend and left with empty hands.
After three days they found smugglers. For $ 2500, they transferred them in a minibus to Kampala, the Ugandan border. From Kampala they continued their journey to South Sudan. They were arrested by corrupt police officers who knew they came from Israel. Totally he paid $ 1000 to cross the border with South Sudan. They followed the main route to Juba, the capital of South Sudan. He paid another $ 500 and was flown to Sudan with a fake passport for $ 900. His friend in Israel sent money via Western Union. Someone was waiting for him at the airfield and so began his journey to the North.
'It was awful. Everywhere were little checkpoints manned by teenagers with guns and we had to pay until we arrived in Khartoum. Here many people are waiting to go through. I stayed there for nine months. We were regularly arrested by the police, thrown in jail and we had to pay. I wanted to leave Sudan. I was worried and slowly I got mad. My money was finished, but my friend in Israel was willing to pay. I met an Eritrean with a residence permit in Sudan. He had a visa for Turkey for $ 7.000. 'I got the money from my friend.' With a fake passport Malak flew into Istanbul. He stayed there for two weeks, was put in prison and arrived in March, after the borders were closed, for the extremely high amount of $ 1500 in Lesvos.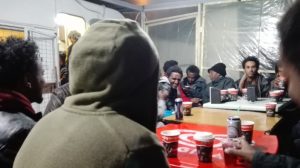 Finally free! Again they put him in a detention camp. Now he is here for ten months without registration – without interview and without medical care. Unbelievable…
Although his emotions occasionally are visible, and his pain is palpable, his spirit is unbroken. Malak does justice to its name. He is really an Angel…
Although Eritrea is still at war with Ethiopia, the people do not care about this. In Moria they live peacefully together and have relationships beyond limits…
Om Shantii – let US leave in Peace
Yasmin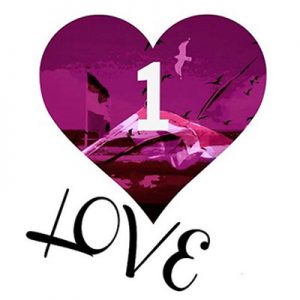 ---