We embrace old and new friends in Brussels, Paris, Grenoble and Turin. We spend a week near Plum Village, a Buddhist community founded by the Vietnamese Thich Nhat Hanh, where every breath is Love. We leave our books in their libraries and with friends. Love is flowing and we walk breathlessly through the stillness of the first snow in the mountains around Turin. Pure magic…
Happiness
Every meeting is a gift. Whether it concerns a refugee, a migrant, or a 'normal' person. In essence, there is no difference between the other and me. We are all refugees, migrants and ultimately people. We are all looking for happiness. Not a short-lived happiness that we have to repeat all the time, but that Source of being in each of us that is connected to Soul: our true Essence…
Leonidas Orlando in Sicily – a true human being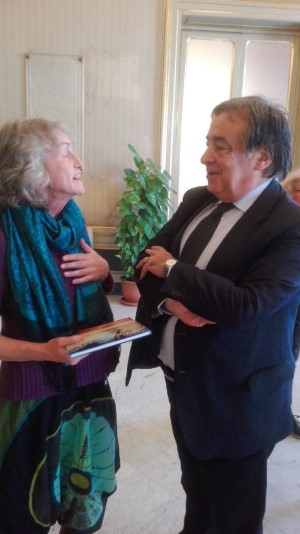 The moment I hear his name, I know I want to meet him. Therefore, we visit Sicily. Palermo feels like coming home. The next morning we walk to the town hall. Miraculously, all doors are opening immediately and all obstacles are removed. Within half an hour, we are face to face with the mayor of Palermo, a miracle of sincerity. We chat about the Pope, the visit of our King Willem Alexander and his wife Maxima, about refugees and my book: 'One Love – One Heart'. Then we hug and kiss. There is no distance between him and me. Together, we fill all the space…
In 1992, Leonidas began his career by clearing Palermo from the Mafia. In those days, no one dared to be on the streets after dark. This guy transformed the city into a safe haven. He is popular with the population, but a burden for policymakers because of his unwavering opinion about refugees and migrants. He personally welcomes every refugee.
---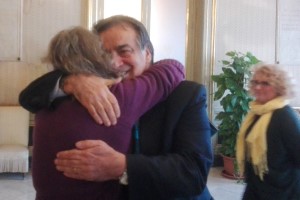 'Every person has the right to be where he or she wants to be. Whether he has to flee his country because of war or wants to build a new future because he is poor. Due to the policy of the EU -the boundaries we raise- we play the Mafia in the card. We create an immense illegal circuit, a breeding ground for crime…'
---
The policy of his colleague from Pozzallo is the same. The first time he went to the coast to welcome migrants, he found 45 corpses in the boat. He decided to let this never happen again. In Sicily two seemingly contradictions are going hand in hand effortlessly.
Care Mineo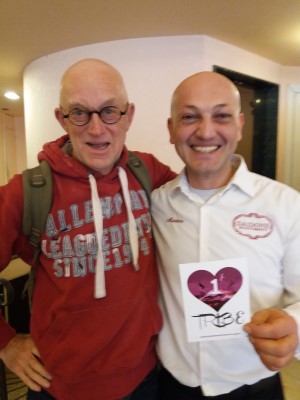 The largest camp in Italy is housed in a former military base. The place is okay, it is only two hours walk to Mineo. Bus services are scarce. If they do not show up in the evening, they are put on the street and their procedure is stopped immediately.
---
Meetings
We meet wonderful people. Sicilians who shower us with boundless hospitality. Africans who have a residence permit and take a return ticket for 500 Euros to fly to their home country to stay with their families for several months a year. Then we have the so-called 'refugees and migrants' who have to pay thousands of euros because we Europeans decided to close the borders. They risk their lives in unsafe areas, such as Libya, where a human life has no value and in non-seaworthy rubber boats. After registration in the hotspots, they are doomed to idleness. They are just waiting in the camps for a residence permit. Some have been here for a few months. Others, mostly Africans, for more than two years. They are not on the European list…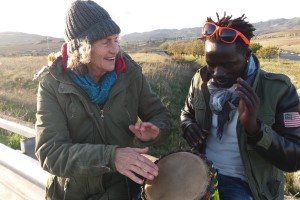 We make music and dance together on the street. Unity from Nigeria shares his horrible story: about the corpses and the killings in Libya and the tension at sea. He is safe now. However, his wife and child are in Turin. He did not see them for two years. He is here seven months and still he has no permission to unite with them. How painfull! I wrap my arms around him…
Om Shanti,
Yasmin and Giri
Merry Christmas

Happiness has no reason
Happiness has no reason
Is sustainable
Is your true NATURE
Is an inner state of BEING
Is ON-dependent from others
or from outer circumstances
I wish you HAPPINESS without reason…
Today – with Christmas – in 2018 and always
---
Announcements
The second birth is the birth in spirit…