I have been back from Kenya for a week now and it is difficult for me to put my experiences on paper. I am touched and filled with energy and grateful for the experience given to me. For the second time I experienced the feeling of coming home. The first time occurred to me in India…
Enjoy
My son Patrick and his girlfriend Jolanda invited me to go with them to Kenya to visit their project. I immediately said yes on one condition: I would like to go a day on safari! I had nothing else to do or to arrange, the only thing I had to do was to wait and see…
Baby elephants
After a well cared flight to Nairobi, we are welcomed by a wonderful man named Mwasi. He will be our guide for the coming week. He drops us in Hotel Serena – an idyllic spot! The next day we visit the David Sheldrick Wildlife Trust. We witness the feeding of baby elephants. How touching to see the relationship between elephants and caregivers. We feed giraffes, Jolanda's favourites, get a great tour in a copper fabric and have a delicious lunch. Honestly, a day with a golden lining.
Safari
The next day we go on safari. Five special days. For the three of us the highlight is our stay at Sweet Waters. A private park that reflects heaven on earth. Not only nature – but also the animals. We see a countless amount of impalas, gazelles, guinea fowl, marabous, cranes, baboons, ostriches, and of course elephants, rhinos, buffalos and lions, giraffes, hippos and many other animals and birds. Too many to mention! To stay here for a few days means you will completely forget yourself and experience heaven on earth!
Mombasa
After visiting two other parks we fly to Mombasa. We take our residence at the Serena Beach Hotel. Undoubtedly the most impressive hotel I have ever seen – built in Moorish style. What makes it so special is that everything – absolutely everything – feels completely harmonious. Definitely the result of good management. Samuel climbed the whole ladder: from the bottom step to the top to become the manager. He is absolutely beautiful – both from the inside and the outside – and it appears to us that he will be very supportive to our project!
Little Angels School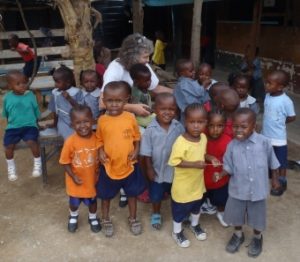 I thoroughly enjoy all the beauty – without a moment of feeling guilty. That is definitely new for me! The next day we visit Elizabeth and her school in Shanzu. She started eight years ago with two preschool classes and now there are nearly four hundred children in the Little Angels Academy. What a dynamic! We are sitting in the classroom, correcting homework, hugging and laughing, yes mostly we laugh a lot. Despite the poor accommodation it is sheer joy to be in the middle of those innocent and happy children, to see their sparkling little faces and to watch them singing and swinging.
At noon, the rooms are swept and after the kids are fed they are put on the floor to have a nap. No doubt, you can see that good education is vital for a society in transition. With the help from Samuel and the bishop, there will be deposited a new foundation under this project. From a private school it will be a non-profit organization. Patrick has his hands full to teach Elizabeth structure and give her overview. For the first time she knows the amount of money coming in and that is lesser than the amount what is going out! But her faith in God solves (almost) everything…
The beach boys
Early bird as I am – you will find me every morning around 6.00 on the beach. I do my Qigong exercises and meditation and enjoy the sea. It is an energetic start of the day. I make friends with the beach boys. I really see and respect them. That is the reason that they do not trouble me. I enjoy looking to the women who are gathering wood for the fire and return home with heavy loads on there heads. Yes, here too, society is carried by women! When the tide is low the boys take me into the sea and show me beautiful treasures. Also at low tide we explore the coast.
One day I visit with Kavu his compound in Mtwapa and buy a present for his mother. I am besieged by children. They love the sweets we present them. It's great to be momentarily a part of such a family. Kavu and his sister cook a delicious meal on paraffin and one of the boys is climbing in the palm tree like a monkey to pick some coconuts for me.
Queenie
When Patrick and Jolanda are going home, I'm not going to the village what I originally planned. This is evidently not an option. I get the same room for a special rate and this is perfect. From now one our favourite table is reserved especially for me. Omar brings me flowers and the last day I will find even a fruit basket in my room. I am deeply touched by their unconditional love! The way these people serve is not submissive but feels very natural.
I invite Elizabeth for a day at the hotel. We play "Queenie" together and afterwards we dance. Well I did this almost every night – bare feeted and intensely enjoying. And my joy was their joy…
Elizabeth and I play together in the sea. Alex passes on in his catamaran, and takes us for a trip to the reef. Amazing! Later we sit on my balcony and enjoy the brutal but funny monkeys. They come sometimes even in my room and unerringly they know to find the sugar!
Elisabeth visibly enjoys the enormous buffet, a feast for the eyes and a delight to the palate. She calls me Dada – which means sister.
Copacabana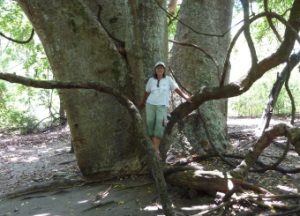 One day, I go with the guys from the beach in a wooden catamaran to Copacabana. We walk in a magical atmosphere in the forest where the houses are remnants of the slavery. Felix – an other beauty – tells us fascinating stories. I did not knew that it were the Arabs who started the slave trade! We eat fish in a simple restaurant on the beach while Kavu's brother Rama, entertains us with his acrobats group. We stabbing the river in a boat made from a mango tree, chat with the fishermen and continue our journey by foot in a magical atmosphere of crabs and waterfowl.
I have to say goodbye to the boys on the beach. Gafana is showing up to show me proudly his new clothes. We hug each other. I will miss those guys!
Calling
The next morning I make a promise to the sea: If it is God's will (or however you want to call this energy) I will come back.
Sam, another beauty and the driver of Elizabeth, picks me up and we visit the bishop. What a open and fine man.
We may find that churches are not of this time, but in Kenya you can not do anything apart of the church. And in this case I feel for the full hundred percent satisfied with this. Once this bishop was a successful businessman. He got a call, left all his possessions, and went for the church but especially for the people…
Inner smile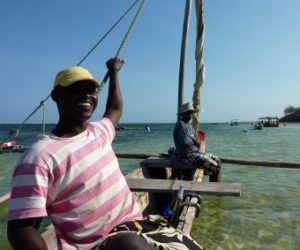 And than I'm on the verge of what has touched me the most. Again it were the human beings. I have travelled half the world. I've lived in places where white people do not dare to come. Everywhere I have met beautiful people, almost everywhere. But the people in Kenya surpasses all human beings. From poor to rich, from young to old, the Kenyan seem to be born with an inner smile and a healthy self-esteem. At most they have one weakness. They still think that every white man is rich and will redeem them from their misery. This is undoubtedly a remnant of the colonial past, but makes them unnecessarily dependent. I quickly put to their minds this is no longer true. There's enough money in Kenya itself. The problem is that not everyone wants to share.
Change
But this dependency is starting to change – the beautiful Thomas told me on the plane to Nairobi. A text message appeal to deposit money for the victims of drought resulted in collecting millions of shillings in Kenya itself.
Possibilities
Kenya is a country rich in resources and capabilities. Labour costs nothing. A teacher earns € 50 per month. In short, where we in the west have to take a step back, everything in Kenya is still open to explore.
In all simplicity
And YES I am investigating whether it is possible to return to Kenya for a longer period. Now I understand very well why I throughout the year tend to make space for something new. To live there means an easy way to be myself. Sharing the joy that I essentially am. And what I'm going to do – that will undoubtedly become clear in a natural way – as always…
Epilog
Kenya is a beautiful country and can probably be called the heart of Africa. The power of the people lies in the spirit and the strong family ties. As one member of a family earns an income, he usually maintains the whole family. Afrikaners are very clean on their bodies and in their houses. Even the modest shack is clean. Outside, the compound contained only one wallet toilet. It was very sober, but clean. Unbelievable how they do it with the little water they have. On the other hand they throw all their waste just on the street. There is no garbage collection. No wonder there is much pests and diseases such as malaria and dysentery are rampant rant.
Tribes
Relatively the 42 various tribes fairly interact together. The only tension is caused by the Kikuyu – the tribe of the president. They usually get all the good jobs. Kenya is very corrupt. Everything works through committees or wheelbarrows. That is why the people revolted in 2007 about the re-election of President Mwai Kibaki. Because of the riots and the enormous fires, many people lost their lives and others lost their jobs and felt into poverty. Tourism also got a big blow. Many hotels are closed and the merchants at the beach usually suffer sheer poverty. Is it any wonder that they abreact on the rich tourists? But tourists don't like to be disturbed, they would freely enjoy their well deserved holiday!
Dependence
The pitfall of Kenya's is their dependence on the rich West. Between 1952 and 1959 there has been a bloody struggle for independence. Thousands of people lost their lives – mostly Kukuyu's. Kenya became independent in 1963 and today Kenya has one of the strongest economies in Africa. But the general population is very poor. The abuse of workers in the pink nurseries is distressing and then we're not even talking about the pollution of valuable natural areas – including the largest freshwater Lake Naivasha. We visited this beautiful area to watch the numerous hippos and admired the hundreds of various waterfowl. For the flowers there is much fresh water removed from the lake. This is disastrous for the wildlife population. The workers – mostly women – earn barely enough to pay their transport to visit their families. This problem also enacted in the hotels. Because the staff are often Kukuyu and live in or around Nairobi, they can only occasionally travel to their family because of the high cost of transport.
Money is no solution
Money can be supportive to help a project to start, but the pitfall is that it can make people dependent. Only giving money without checking where it will be used for feels like throwing it in a bottomless pit. Afrikaners are living in the moment and the money which comes in is also being used in the moment. Budgeting – What Patrick did with Elizabeth – is extremely important. It is our duty to teach people how to catch their fish – instead of giving them fish. This undoubtedly flatters our egos – but is often a short-term solution and does not contribute to structural improvements. We often give money to projects because we want to redeem our feelings of guilt. If we actually want to contribute something then we ought to be wiling to investigate on the spot what we really can contribute.
Sister Mary
Sister Mary in South Africa is for me the a living example of a great manager. She was always working to improve the awareness of the locals. When people are trained and aware, they will give their share in various projects. I also could have a bit of contribution in this by training people in self-healing and that has given me an enormous joy. (book: Love is Al There Is)
Independent
The question is: How do we make people independent from us rather than dependent. Well I just leave it to the question. I certainly do not know a solution. Generations will pass by before the effects of modern slavery and colonization are erased. In the meantime, it is still a matter of pioneering.
Kenya has many fertile areas – like the surroundings of Mount Kenya. If the area could be properly explored and the distribution of the products could be improved, Kenya could in this respect reasonably support themselves. Knowledge and skills are often the missing link. Since many white farmers were expelled from their land without having their management skills transferred to the Kenyan, people miss the knowledge.
Black and white, we need each other to restore the balance in this world. Kenyans are very sensitive people. They completely live in their bodies and are connected to Mother Earth. We as Western people mostly live in our heads and have lost that connection. If we cease to feel superior and are willing to share our knowledge – we will contribute to a greater harmony and healing of ourselves and others.
Optimistic
I am optimistic. The glass is half full – even in Kenya. I see a kind of beauty in the people we often have lost. I can see it in them because I found it back myself. I call it innocence.
Unlike here in Holland, I experience no barrier to be open and honest with the people. Contrary, it feels very natural. I address them at their own strength. Kavu told me: You have given me new eyes – you have given me new ears – you've opened my heart. Anyway it is a process of reflection. One and one equals three!
Adult
If I should like to do anything, I would say I like to be a mirror. I like to be just a reflection of what I am. I like to show them their beauty and their power. I know from experience that I only have become mature and independent at the time I started to believe in myself. From that moment I became elusive in the eyes of others. But I found back my humour and my inner joy. That joy was always there, but it was covered with so much misery that I had forgotten it. This is pure wealth and can not be bought by any money. From that moment I do not longer live in poverty, all I need is provided to me at the right time!
Conclusion
Because of our focus on what we don't have we can not see what we do have. And that and nothing else is our true wealth…
Om Shanti,
Yasmin
---