After fourteen days of intense fasting and not being on the internet, I feel reborn. The pain in my body has passed away. My inner space feels boundless. I feel quiet – quiet from the inside – quiet from the outside…
I have given my wisdom out of hands to someone who thought he knew my body better then me myself. Literally that has put my whole sensitive system on its head. Thank God, in all respect I have taken back my own space…
Ribe district
Together with Chai and Rasta Chai I travel hours on the bike through the bush to the Ribe district. It is a beautiful area with rivers and hills. We visit the remains of the first church, the cemetery, the first bridge and on top of the hill we see the first school.
Kaya – the ancestors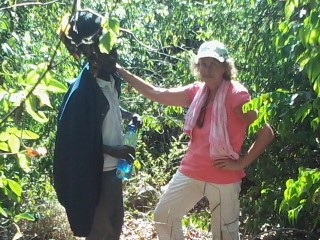 We leave behind the engine, walk through narrow forest paths and stand at the gate of the Kaya, the holy place where the ancestors lives. When an epidemic broke out, or in times of war they were consulted. Rhasta Chai looks at me. 'You are very privileged. There was never a white one in this place, let alone a white woman.' I feel that it is not a coincidence; I ought to be at this place…
---
'At that time there was a direct gateway to God. There was no middleman. You did not have to be baptized to be chosen. Everyone was chosen…'
Gateway to heaven
It is true that the church and the west with all their good intentions destroyed a lot here in Africa. However, this is part of the evolutionary process. We cannot go back to the past. We have to go forward. It is time that Africa start to remind her inner strength and stops to sell her soul to the West in exchange for money.
These turbulent times will give each of us the opportunity to turn inside and to come home inside our self. We have to find our own special gateway to heaven. So we will, wherever we are, in every church, mosque, in nature or anywhere else, experience our true connection with what we call God or ALL THAT IS…
Successful
She comes from Tana River Delta. A disputed region on the Somali border, where many were killed in recent years. Her father was successful with the production of honey which he exported to Lamu. Success is not accepted here; his brothers murdered him and took the house. Her mother had to leave with the children and brought them up as a single mother.
History repeats itself. She runs away from her husband who mistreats her, works as a teacher and teaches classes of over 100 students. In the evening she provides tutoring so her children can go to college. 'What are you worried about?' 'I need 200 Euro exam-fees to pay for my daughter. I'm waiting for a miracle. 'Thanks to a special person in my life I can provide her this miracle. She cries of pure joy…
She is on the list for surgery. She has no confidence in that and ask me to treat her. After three weeks she starts to feel a different person. 'Do you have a new doctor,' they question her on her work, 'You are so energetically…'
Mombasa
At the moment I seriously think whether it is possible to stay here forever, we are again on fire:
Al Shabab lures children to Jihad with free food. Police raided a crowded mosque. There are two officers slain with pangas. The police started to shut. Several children are killed. The following Friday they call for revenge. Muslims pelting the police with stones. People are trapped in their houses. Street – shops will be demolished and some people are killed. At this moment the police seem to have the matter reasonable under control…
Forgive and forget
Hi is badly abused by his father. As a 14-year-old he walked out of the door and never returned. I ask why he wants to visit his father in the hospital. He looks at me thoughtfully: 'Your Westerners never forget anything. We Africans do horrible things, but we forget them and start at new.'
And that's absolutely true. No rancor in Tuva, who was almost killed while his motor was stolen, nor by James whose brother was slain, or by my friend whose father was killed…
If you see that someone is killed then you make sure that you do not really see it. If you report it to the police you can be the next one…
Yasmin – Mutanu
---
---