The time on the island of Lamu seems to stand still. The transport is going by dhow or boat, by foot, by donkey or by bike. The population is a mix of Swahili, Arabic, Indian and Chinese and mostly Muslim…
Old Town
We find an artistic residence in Old Town, the best preserved Arab settlement. We sleep in an open house with hundreds of steps and hidden spots. The only drawback is the heat.
She flew with her father in his private jet from Nairobi to Mogadishu. Her father decided to land on something that looked like a landing strip. At that moment she felt in love with Lamu. She is an artist and born in USA. She has her Kenyan citizenship. Recently the USA changed the law. No longer she is allowed to enter her fatherland…
Chained
Although I belong nowhere, on a natural way I am part of all life in and around me. While I am working on the computer, the young man next door is producing a lot of noise. He is chained on the roof. It is taken weeks already but reportedly, he will soon functioning normally again. Amazingly, it does not shut me down and it does not bring me out of balance. There is even no need to change the situation…
Veiled women laughingly stabbing their hands to help me aboard. Men naturally reach out to support me to get on wall. Quay on Service is as natural here as breathing in and out…
Dream
The people are friendly and respectful. There is no security in this house. However, also here on this island tourism had a blow. The results are unemployment, drug abuse, HIV/AIDS, unseen poverty, and a hidden dream that it will be better elsewhere…
We enjoy the beautiful scenes of people and donkeys. We are all equal. As we are all moving on foot status disappears. We buy fruits and vegetables at the local market and drink African coffee on the street…
Shela and dolphins
Shela, with its twelve kilometers of sandy white beach, is paradise and cooler than Lamu. We walk for an hour along the coast or take the boat, swim in the sea and enjoy a blissful time when ten beautiful large dolphins give a performance especially for Dennis and me. What a divine gift…
Children come to me spontaneously. They stabbing out their hand, pressing a kiss on my hand and radiantly say Jambo…
Matondoni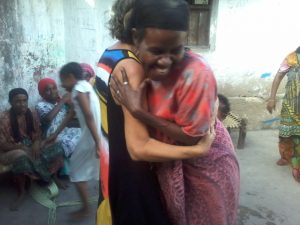 With a packed wooden boat we pass by Mkowe and navigate to Matondoni. Immediately it feels like home. How special to be at a place where time seems to became to a standstill. At the same time this community has everything Westerners are longing for: JOY – vitality – wholeness – spontaneity – playfulness – inner wealth and EMPTY heads. In short, a state of enlightenment for which we will count down great amounts of money to ACHIEVE this state of satisfactorily what not can be achieved by anything – because it just IS already there! This people do not know – they just live it: One large family – in short, an Oneness – where I fit in seamlessly. We dance, we sing and off course we cuddle…
There is apparently nothing disturbing the silence, no car, no machine. But where dirt accumulates in places which are not seen by the tourist, behind the silence of the unemployed youth is growing a desire to leave this place…
Because of no disturbances from cars or machines our heads are empty, Skyna from fourteen proudly says. I chuckle at her. Do you know, sweetheart, in the west, people are willing to give out large amounts of money to reach this state of emptiness. Believe me; they are very jealous of you!
Cultural festival
Dhow races, donkey races, drummers and tribe dancers. The island is full of visitors from the mainland. We hear the orphans drumming and hurry up to the square. It is packed of people. Here one does not dance in public, but only at weddings. So I have to dance on my own. This time I get a great dance partner. His name is John, he is an artist and has eight children! I enjoy tremendously, sweat enormously and play bubble with the kids. Great!
Dennis has to go home to arrange the wedding of his sister. I am not ready yet and decide to stay.
Pitfall
What can I do if I would like to live here? That question is still in baked inside of me. Thanks God, I am aware of it. Things arise and pass away without saying if I do not try to pull my fingers on it…
Fear-mongering
The media gives the picture that Kenya is to dangerous and has to be avoided. Is Kenya a threat to the West? But people here and elsewhere do the same and warn me: 'Do not walk along the coast on your own, it is too dangerous'. They sow seeds of fear, that if you are not alert will grow out into trees and make you afraid and dependent…
Wedding
Shadow is hardly to be found in Shela, but the water is lovely. I swim and fall asleep and against 17.00hr I decide also to walk back. And that is the reason that I end up in a Muslim wedding with stick dances and great drummers! The rhythm is catchy and puts me in installment. The atmosphere is upbeat. Afterwards it is almost dark and too late to walk and still I have to take the boat to Lamu.
Help syndrome
By observing one of the guests who hardly trice to change the situation from the man on the roof, I realize myself that we, spiritual people, are exhibit with the same drive than those with all their good intentions who came/come to Africa to rescue the poor souls and thus let/have thrown them into hell.
We also believe that we have a monopoly on the truth and want to save and to heal people and so on. To let things BE with an open HEART without wanting to change things or situations is a challenge and goes far beyond the ego. From inside we will be confronted with things that we rather not like to face. IS the man on the roof that crazy OR is there something we can not comprehend…
Wedding at the Fort
Muhammad says that I stole the hearts of the people in Matondoni and invites me for a special wedding at the Fort. I may help to pack the surprise boxes and later on with my own box, bottle of Fanta and some sweets I join the party. I am the only with one and surrounded by three hundred beautiful women. The Christian women from up-north are dancing in the circle in their colorful, expensive robes. The black robes of the Muslim women are a gorgeous backdrop. I enjoy these authentic women and their ceremonies. When four hours later the couple drops in and climbs the stage, all the attention is taken up by the bride. Her appearance sweeps away the groom completely…
True power
Ostensibly, the power is in the hands of the men on this island and undoubtedly throughout whole Mombasa coast and a great part of Africa. But behind the buibui and the veil hides the true power. Understated, but not to be beaten by anything…
I decide to spend my last night in Matondoni, to great delight of Muhammad…
Blessings from Heaven
Yasmin – Mutanu