As long as we appease our conscience with the fact that they need us, we are in the ivory tower of the counselor and we do not realize that we are here in the first place for ourselves…
Our last days at Lesvos are in the light of saying goodbye to our friends, refugees as well as Greeks.
Confrontation
He reacted rather aggressively on my article about Muslims. I invited him to read the whole article. The result is heart-warming. I have a friend for life. Together we will build bridges beyond religions. Love is the cement…
Mantamados – Skala Sykeminas and Molivos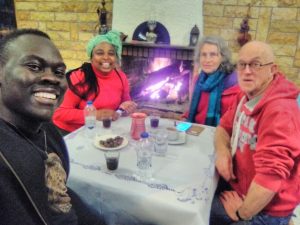 We go for picnic with two cars and eight people from six different cultures. In no time, Iranians and Afrikaners form a unity. We visit Mantamados monastery. All monks were killed by pirates. One monk survived through intervention of Archangel Michael. He painted a beautiful icon with the blood of his brothers. Our Iranian friends came ashore by Skala Sykemineas. Gripping but also healing. We conclude an unforgettable day in Molybos. Then our ways separate. With the four of us, we pop in at Stratoela and celebrate Angelo's birthday. It is an unforgettable day – a day without stress…
Emotional shower
She looks at me. I read despair in her eyes and wrap my arms around her. She clings as if she never wants to let me go and weeps tears out of her toes. I rock her like a baby. After a while, she calms down. 'Sorry,' she says. 'I love you,' I answer…
Turkish
He is new and Turkish and wants to shower us with love, wine and cookies. Turks and Greeks have more in common than they would like. It is religion that separates them…
Home for a day
---
Although you usually see their sunny side, Greeks also have two sides. They do not want the immigrants. Except a small minority. They give their lives for them, like Nikos and Katharina from 'Home for a Day'. They get sick or tired, do not know how to stop and usually they have hardly Greek friends!
Today Nikos and Katharin have an Arabic and an African group for diner. I meet SohaR from Iraq. She is beautiful. She has already seen me in the camp. We play, cuddle and I dance to your heart's content. I invite the Africans. A boy from Kuwait breaks through boundaries. It becomes a super evening for everyone. Thanks Nikos and Katharina. You are priceless…
Nigeria
How optimistic he tried to be, it is difficult to survive in Moria for this sensitive soul. We take him to Stratoula's Place. Eating together around the fire is heart-warming. We open up new possibilities for him. He sings for us his favorite song: 'You raise me up.' His voice is heartwarming…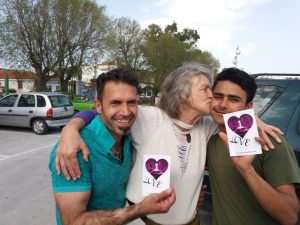 Market
We get out of the car. Before I know it, I am being pushed into the air by a powerful Syrian Kurd. 'Í miss you – I Love you…' We enjoy each other and play games on the street…
---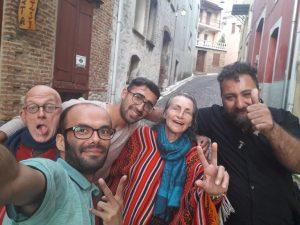 Gorgios
For the third time we take a full car of men to Gorgios Place for lunch and Greek music. Kayu – from my book – is today in Moria for 2 years! After a super day, a Greek comes to me. He kisses me: 'I want to thank you for bringing all these beautiful people here. We really appreciate that…'
---
By doing what we do, Giri and I are building bridges between Greek and Refugee of understanding and love. It are drops in the ocean…
Diner
This time they cook for us, our guys from Iran and Afghanistan. We share food and stories. I feel rich as a mother of so many beautiful souls. 'We will miss you, they say…'
---
---
Tent
We are looking for SahaR in her tent. I am surrounded by children. Get kisses, hugs and flowers. They touch me deep in my soul…
And then we take the boat to Chios and I feel how grateful and how tired I am…
Om Shanti,
Yasmin and Giri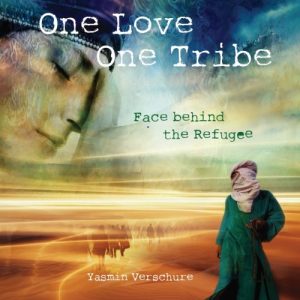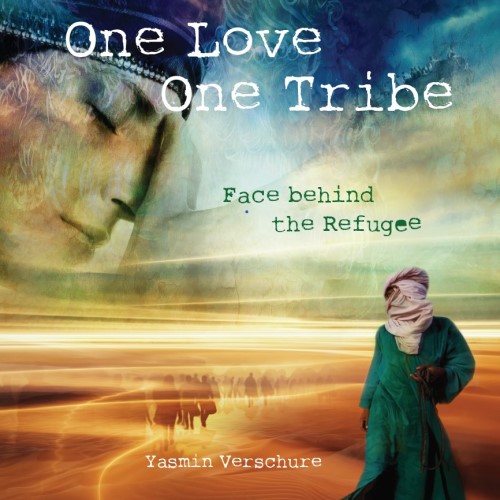 New: 'One Love – One Tribe' – Face behind the Refugee
A poignant and enlightening book about connection, about life without borders, about love and compassion…
---