Staying on my balcony I am watching Mount Kenya. An eagle ascends from the treetop and circles higher and higher. My mind takes a leap and merges with the eagle. I oversee the meaning of life and feel free – completely free…
Meru
After a time of completion of projects, saying goodbye to my friends on the coast and a final Dennis-day at our favorite beach, I arrive at my new friends in Meru. Again I ended up in paradise…
Meru is the opposite of the coastal area. This area is not dependent on tourists. The infrastructure is good and the land is fertile. Meru is the storehouse for export of tobacco, coffee, marijuana, Mira, fruit, vegetables, maize, cassava, etc. Sometimes elephants are crossing the road…
The climate is delightful. Cool at night and warm during the day. The rain is expected any time and that is sorely needed. Elephants and monkeys come inside the habitats and people have to lit fires and make noise to protect their crops…
Majengo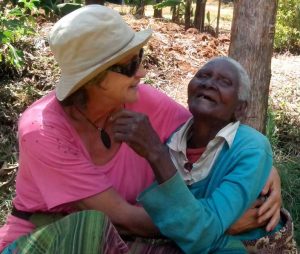 Once you leave the main road you will find purity and poverty. Children run through the bush paths: 'Muzungu'! I step off of the engine and hug the wise and old ones and the small and pure kids. Majengo is the place where the poor brewing their illegal beer. Even you can better not walk here on your own in the dark, I feel at home in the chaos…
---
Alone, with my motor guy and sometimes with rangers and guns I explore the beautiful nature. I climb waterfalls. We visit the dry desert area of Isiolo where Jesus passed on a donkey on his way to Ethiopia. He touched the soil with his staff and there arose a fruitful source in the desert. Until today shepherds with their flock come here for drinking water.
Chuka
We visit Chuka, the homeland of my friends. Here you find the sober African life my friends have left behind. Mother of 90 spontaneously takes my hand and we dance and sing together. Living in a community like this means that everyone is responsible for everyone and loneliness is an unwritten word…
Family ties are very important. You are not only responsible for your own family, children and grandchildren. All the children of your brothers and sisters are yours. You are also responsible for their place at school, etc. If you want to extract yourself, you are an outcast and you can better go elsewhere…
The prison is full of people who committed minor offenses: brewing, thefts. Nowadays, sometimes someone get robbed and raped and even murdered. Michael and I were lucky when we climbed to the waterfalls. We were warned just in time and escaped the robbers by stabbing the river as quickly as we could…
Lawyer
My host is a lawyer. Therefore he can play an important role in complying with the new constitution. At home he is the one who sets the price, but occasionally there is an intimate atmosphere and we exchange something essential. 'Thank you master,' he will say. 'Karibu sana master' or welcome, I answer…
Tradition dictates that the wife is not working outside the home. She is the boss in the house and kitchen. The last place is off limits to men. The truth commands to tell me that women usually are not willing to give up their place of power. On the other hand a woman will not ask her husband were he is up to in the evenings. That is his field. Traditions change, slowly but surely. It takes time.
Power
The power of Kenya has changed me. I have much more space. Let things just happen without controlling them. I observe without judgment. I can say I am now a real coach…
Kenya is a rich country. Property here is normal. You not measure your wealth on that. Even though 52 percent earn less than $ 2 a day, if you own a piece of land with your own private hut you can can have a good living.
When the rich stop to fill their own pockets and are willing to share, then livein Kenya will be much better than it is in the West. Let us stop to send our money for their Development. Let us stop to be that arrogant to think that we know what is good for THEM and finally give them a possibility to mature. Every human being has the right to find his own dignity. Support out of pity is not working. It gives us Westerns a feeling of superiority but makes people there lazy and dependent…
Smart people make beautiful movies in problem areas. We watch and think this is Kenya and pull our pockets because we find it too sad. The money we donate mostly does not reach its destiny…
The new constitution is unique. It divides Kenya into provinces and the power lies with the people. It will take a while before the implementation in practice is flawless, but it is coming, slowly but surely.
Home
I landed safely at Schiphol and I catch the train from Amsterdam to 's Hertogenbosch. It is cold, the sky is gray and the fog is thick. In Utrecht, a watery sun breaks through the clouds. Wow, it feels magically. My HEART pops open. I feel at home – at home in myself. Home is where my heart is and for this moment that will be here…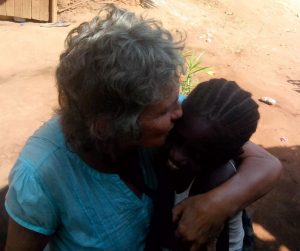 Grateful for AL what I experienced. Thankful for ALL that I could share and distribute: building houses and a chicken farm – paying school fees – activate shops – sending people to Dubai's for a job – paying for hospital, medicines, motors repair and so on…

Love is All that is
Yasmin – Mutanu
---