I have Elisa on the phone. She is missing my stories about refugees. To tell the truth, it still surprises me that I wrote 29 stories in such a short time last year. Not only that. The book highlights many things that are hidden by the media and are at least even important.
The stories arose when we had a stable base at Lesvos. You must first build a relationship. I have to say that I do not need much time for that. It is usually there from the beginning and is based on mutual respect. People feel that. The fact all stories became a book that was put into the world with the necessary obstacles, was initially not my choice and therefore not only my merit. Ultimately, it is my merit that it has been born! With this book I have put a document in the world that is complete and comprehensive. It does not ask for any additions.
'One Love – One Tribe' is not only an honest testimony according to insiders, it also makes visible what is denied on a large scale…
The here and now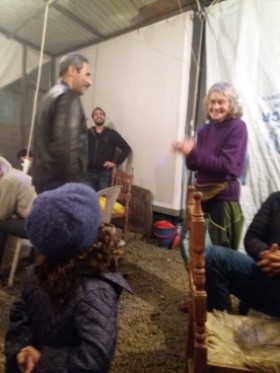 The first morning we drove past the camp. I feel the despair. I feel the tension. It pops up in me that it might be escalating here at Lesbos. Soon we are harassed and registered by the civil police. We get registered including our car. Although we cannot enter the camp, we go to the cafes in the evening. We are welcomed with joy and before I know I am dancing with the Iranians and the Afghans. Music is a source for healing and connection. For a moment, people try to forget their grief and the chaos in their heads by calling their families, by warming up themselves near the stove, by listening to music and drinking coffee, wine or beer. Here the whole world is represented. We meet old friends who have been here for almost 2 years and new arrivals. They all have their story and a reason to be here…
---
We look at Nieuwsuur at the Dutch TV about Moria. Again, it annoys me that 90 percent of the migrants are deliberately kept out of the picture. The African community simply does not exist. They should never have made the crossing and certainly will not get a chance to enter Europe legally. That is only reserved for the elect, approximately 3 of the 90 nationalities. Europe has failed. We still believe that we can control the world and have not learned anything from the past. By closing borders and our deal with Turkey, we have started a trafficking beyond imagination…
You could say: the document 'One Love – One Tribe' that will appear in a second edition at the end of January, is up to date. We were eager to follow the traces of the refugees. What has become of them? For that reason we went by car and visited some of our boys and girls on the road to Greece.
The inhuman proces of waiting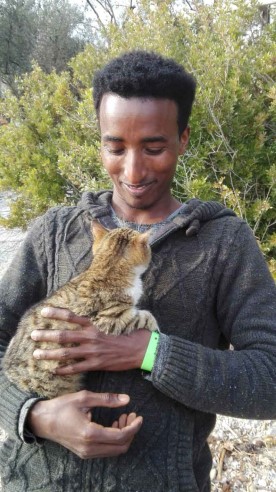 From a number of boys and girls, like Mukasa from Eritrea*, we know he has arrived illegally in Germany. There he is still in the procedure for asylum. People from Syria, like Fathya, her husband and her son, are finally after two years united with their families in Germany, but still in the procedure. Salwa and Samur from Syria stay with their children in Skarmagas, a horrible place near a huge oil refinery. During their waiting process, they opened a shop in the camp. The eldest daughter of Samur is still in Syria. She is married, has a daughter and there is no money to come to Europe.
---
---
Guidelines EU
Yes, the process of waiting. According to EU guidelines the Syrians, Iraqis and some Eritreans are the only ones who will be accepted for asylum. Other people are full of hope on the road and waiting. In June 2016, the people in the camp of Piraeus, the port of Athens, were evacuated. They were transported to various places and a number of them ended up in so-called squads: like the old hospital in Omonia in the center of Athens. Quickly the filthy building was transformed into a pleasant residence for Syrians under leadership of an English couple. In no time, the place was taken over by the Mafia. The young people started drinking and using marijuana. It did not stop by this. They even started to use heroin. It was the end of project old hospital.
Muslims are not allowed to drink. They are not allowed to have relationships for marriage, etc. Forbidden fruits start to control our mind. We like to do secretly what Allah has forbidden. Understandable when you are young, without any prospective in life and not allowed to do anything.
Sicily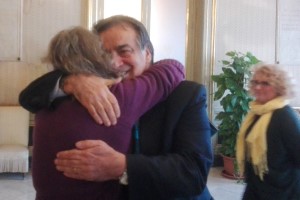 We visited the mayor of Palermo, Leonidas Orlando in Sicily to offer him my book. This man is absolutely an enlightened being. Not only he cleared Palermo from the Mafia, he became a figurehead for refugee and migrant. He makes no difference among them. He prefers to talk about people and believes that every person should have the freedom to be at the place he wants to be. I support that. After all, were we not all refugees or migrants in the past? Is it not foolish that human rights only apply for people who have legal documents?
The EU is not happy with Orlando. He acts openly against their policy…
Bureaucracy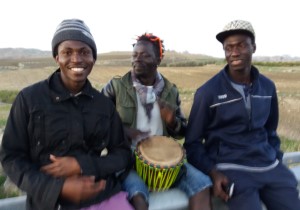 At the camp Mineo in Sicily, far away from the civilized world, we meet a number of black people. We make music and dance on the street. It strikes me that the Senegalese are befriend with Gambians but consider the Nigerians as stupid. We talk with two Nigerian guys. They are anything but stupid. One of the boys is very sad. He arrived in Sicily eight months ago after a horrible journey through Libya. His wife and child are in Turin. He saw them for the last time two years ago. Unfortunately, he is not allowed to go there. Stupid bureaucracy…
Free play
By building walls and drawing boundaries, smugglers have free play because it is now a sport to find the meshes in the net. We also manifest that the escape routes become increasingly more dangerous and that large numbers of people are drowning at sea or falling prey to organ trafficking, slavery, etc. A huge amount of people make money from the refuge and that is not just only the smuggler.
The mayor of Pozzallo in Sicily found 45 dead bodies in the first boat, it changed his life…
Migrants, who come via Libya, like the people in Italy and Sicily, were often witnesses of cold-blooded murders. They know organ trade. The donor hardly gets anything for his organs that are resold for huge prices. Migrants also know about slavery.
Well, most people – especially the blacks – know slavery for centuries. Even that does not stop them from coming…
Facebook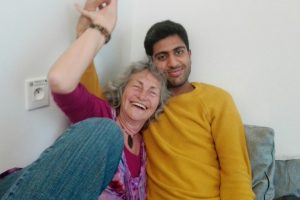 Refugees who have arrived in Europe are very active on Facebook. They present themselves as popular boys and create an image that they made it. Stupid in our eyes but you have to know something of their culture to understand that. They borrowed lots of money and sold their possessions to come here. For Arabic man face-loss is worse than dying an honorable death. For that reason, they keep up appearances. Not all of them. People who have a heavy political affair do not operate on Facebook or do so under a different name.
We need them
Anyway, we need the refugees. If it is not for earning our living than at least to give us a good feeling. By starting all kinds of projects and setting up camps. Preferably for children, young people and women. These groups, especially the children, usually do not lack attention. If migrants not like the food, NGOs from abroad come over to provide other food. 'No Border Kitchen' feeds people for 1 Euro per day. The Greek government gets 6 Euro per refugee to feed them. They can put the extra money in their pockets. Not that I want to blame the government. Better, we start at the beginning. We EU are so arrogant we think we can control everything and buy off our responsibility with money. Since Greece is in serious economic crises, it is an easy prey.
Unrest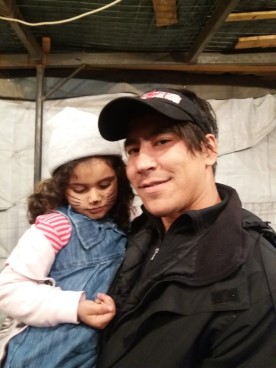 There is unrest at Lesbos. In addition to a number of well-running projects, such as Kara Tepe, which in my opinion is over-organized, detention center Moria is a place where people are not allowed to enter, except registered NGOs. Doctors without borders can be found outside the fences. Principally they do not want to work inside this inhumane place. Christmas 2016 Lesbos was surprised by snowfall. Because of important visitors, the media focused on Moria. To appease our conscience, all restored tents were cleared away – a huge waste of capital. In addition to the containers for about 1,500 people, ad new Moria with an over-occupation of more than 5,000 people is full of tents. Especially outside the closed camp. Now it rains a lot, so it is no fun at all. In addition, the boys are hungry and occasionally they slaughter a sheep. The inhabitants of Lesvos are not happy with this. On the contrary, they are more than tired of camp Moria! Still we are not talking about a small minority of North Africans, mainly Algerians, who are true masters in stealing and dealing…
The rows of cars from NGOs has even become longer. At least during daytime. No longer there is a doctor's post inside the overcrowded camp and at night people are left to their fate. Doctors of Boat Refugees are back to the Netherlands. They could not do much, but at least there was a listening ear. Greece decided to take over the work from the NGOs. Not a wrong decision, but you need the right people for it. That is something what takes time.
Drugs
Many of our boys and girls are now on the mainland. Illegal, let us say 90 percent. According to Leonidas Orlando, they are a source of crime and an oasis for the drug trade. Many are housed in camps, hide in Athens or find work, like Pakistanis, on the mainland. The Pakistanis are hard workers who tackle everything to survive and hide themselves in cities with other Pakistanis. Often they survive through trade. They populate separate enclaves in the city.
Desire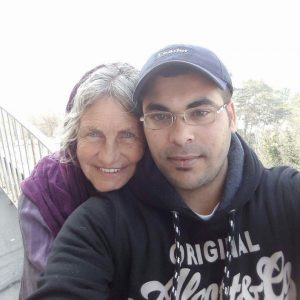 Blacks idem ditto. There are quite a few who came in the past and have a residence permit. They usually work in Athens or Italy for about eight months. Then they fly to their families for a few months. Flying does not cost a nut. They have built up their life and can at least visit their families. That does not apply to the illegal immigrants. Like Osama from Egypt who flew to Turin on the papers of his brother after the borders closed. He works every night in his brother's kebab restaurant. He cannot let his wife and child come over, let alone that he can visit them in Egypt. What a horrible life. He was looking seriously for a second marriage with a European woman so he can legally visit his wife and child in Egypt. In the meantime, he knows that it is not that simple. He has only one desire: to see his wife and boy again.
Good business
The smugglers in Lesvos and in Athens are doing good business. First, you pay your squint to arrive on the island. Second to get off the island. Much more difficult nowadays, but still not impossible. Then you pay – with the help of family and friends – to get out of Greece. Because that is clear in the meantime. Even though Greek are not unkind and the climate is wonderful, it is not possible to built up a living. Like many with them, Hippo* from Cameroon is now in Paris. The blacks are very social. They take up their illegal brothers and sister in their homes and share what they have. Sometimes the illegal immigrants can do illegal chores. Secretly and obviously poorly paid. However, everything is better than doing nothing. This way they survive…
Except for those who are not that lucky. They sleep, like the Roma, under the bridges in Paris and are regularly hunted by the police. The nightly handed out sleeping bags and mattresses stay lost behind...
Last time we visited Sjam from Pakistan. He called me before our departure. 'Yasmin I am going back to Pakistan'. He sounds very happy and is determined to go to university there. He will focus on the young people in Pakistan. 'I am going to tell them about reality in Europe, Yasmin. We are going to build up Pakistan together. You have to promise me one thing: you have to come to Pakistan. I am so grateful for what you taught me. I really love you…'
My heart sings. I feel very happy for him. We leave mid-November 2017. To our surprise, Sjam left Paris just before we left. He is now in Italy. His family let him know that he must first earn some money before he can come back…
Vulnerable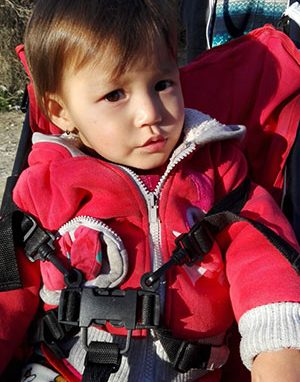 Children and vulnerable young people are brought to Athens. Like Osama* from Syria. He does not belong to the youngsters but he has a horrible past and tried several times to end his life. That is how we found him last time on Lesvos. He felt safe with us. Now he is in Athens. He has a room and benefits but no job. However, he feels much freer than at Lesvos. Whether that has to do with the fact he has escaped from the island or that he is using marijuana, wine, beer and uso is not really clear to me. His life has been shifted to the night. Parties with music and friends, usually boys from Syria and occasionally a girl from Morocco. He is making something good out of the bad. Is he happy? Definitely to see us. However, he still like to find a job…
---
Arranged
* Gouri and her family from Syrian Kurdistan have been living in Athens for half a year now. They get paid by the UN. Even if their marriage was arranged, they have a good relationship and four beautiful children. Yara, the youngest, almost died during their flight. They are raised with strict rules, but above all with love. In that love we share…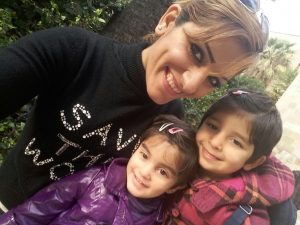 What should they do after this half year? Then they are under the wings of the Greek government and that is no luxery. They have to fill the gaps themselves. Anyway, that are worries for later…
My dear friend Isaac* – Onyakonchi from Nigeria – with his beautiful wife Charity from Uganda and his son Conrad is not that lucky. According to the UN they are black and only cross the sea to get a better life! After his positive outlook, this guy is concerned. Last summer I transferred some money so he could go to an island for a small job. That period he felt very happy. Their asylum has been rejected twice. In February is the final decision. However, they are not on the EU list and certainly, they do not get asylum. The optimistic Isaac I met is by now a different person. I understand that very well.
Luck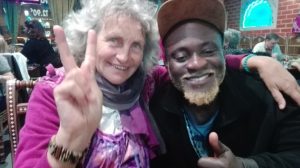 Aristotes* in Grenoble is more fortunate. He has a tough political affair. That is of no concern for Europe – rules are rules. However, in Grenoble he received papers for 10 years. Even the possibility to go to university. He has stopped that now. As long he has to sleep in a friend's house where he is not allowed to stay during the day, he is unable to study. However, he has nothing to grumble about…
Another friend from Pakistan with a huge political issue, was rejected and hiding on Lesvos. We helped him to flee to Athens. Suddenly he could go back in the procedure. Unfortunately, the UN made a mistake in his document – one letter in his name is missing. Just enough to make him illegal again…
No, that is no joke. Kaoula* from Palestine, who worked as a translator in Kos, is now in Athens. Unfortunately, she cannot work here because in Kos they made a mistake with her papers. The only option is to go back to Kos to correct it there. Before she can go she has to earn some money…
Rejection
I inquire about a friend from Ethiopia. I have lost contact since he was taken to Thessaloniki. Last week someone contacted me on Facebook. Anonymous. I am overjoyed when I discover it is him. After all, he is still alive. 'Yasmin, I went from Thessaloniki to Austria by foot. I thought about you every day. In my view, you are a role model for us refugees. I lost my phone and all my papers. Recently I am back on Facebook and found you back. I am here in the procedure and I feel ready now to tell you my story. You must come to Austria…'
People
People are people. This guy is very special. However, is not everyone special? I speak to people on the street. Greeks, whites and colored people. I am curious about their story. We meet and embrace…
Is it not sad that we, as the EU, have decided in advance that every migrant who is not on the list has no reason to enter Europe? My book is a true testimony that several people from Africa and even Nepal have fled a life-threatening situation and cannot return to their homeland. From Emmanuel* from Ethiopia-Oromia, I almost dare to say with certainty that he was murdered by sending him back…
Migrants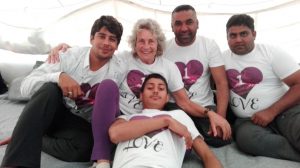 Suddenly we are in Kos for five days. The Pakistanis we know there are deported to Turkey or Pakistan or are living illegally somewhere on the mainland. Our friend, with his unassailable mood, has found a job in Crete. Our Greek friends are spending these days with family on other islands or in Athens. So we stay with Dorine. She worked at an NGO and was fired because she had a relationship with a Pakistani. He got deported. She went through hell. Quality-time! We enjoy each other's company. The weather is beautiful and the sea is a source of healing. That also applies to Erica's place where we took refugees too. They were welcomed like in Stratoula's Place at Lesvos. Erica has not forgotten us, even though we met her only once.
Again, in Erica's place we are surrounded by a heartwarming Greek family. Migrants! Like many Greek Erika was born in Australia from Greek parents…
Love and Light,
Giri and Yasmin – from Lesvos – Greece