'A terrorist is not a Muslim. A terrorist has lost his faith…'
– Pope Francis in Moria.
'Will Europe make a large detention center of Greece Yasmin ', asks one of our dear Greek friends with pain in his eyes. 'I did like you to write a letter to the European Union with all the insights you have collected'. I look at him: 'I am not an activist, but a peacemaker. But no longer I can deny this situation…'
There are places such as Kara Tepe where everything is neatly arranged. There are more social workers than refugees. I would send 90 percent of them home and I would put the refugees themselves at work. You give them the feeling back that they are human…
As a counterpoint, there are places everywhere like Moria-Camp. Moria symbolizes the shame of Europe. Even if it is not possible for us to enter through the front door, we have seen a lot through the back door. We have met people from more than twenty countries. Apathetic people – sad people – happy people and above all lots of brave people. I do not feel pity. That is inhumane and that I do not feel anymore. I tell them frankly that the situation in Europe is anything but rosy, and if they can not live together in peace at this place, they can better go back to the war in their own country. They are surprised and get lively with my directness.
Of course I understand that there is no ready-made solution in this. But to put innosent people behind bars in a terrible kind of prison – where even NGO's withdraw en masse, is mockery to our humanity and feeds the frustration.
We can not continue to commute our fear with buckets of money, of which like always only a small portion reaches the refugees.
In Moria-camp there is hunger – often a lack of water – people sleep in the bloody heat in a tent on the floor and the bathroom is a accusation. They fight for food – almost every day. Some time ago, the Afghans put the tent of Pakistanis on fire. 70 people get injured…
For some refuges their escape was a hell, for others a great adventure. The dream of a life without war, to have the right to speak out freely, kept them alive. That dream has been shattered. Except the people from Syria and Eritrea only a very few will have the opportunity even to leave the islands. You need to SEE a place like Moria to believe it!
By meeting people they are no longer images for me but living souls. By looking them in their eyes I put them in my hearth. We adopted our Pakistani hero. He asked me to bless him before we left Lesbos: 'Why Yasmin I had to wait for so long to meet YOU? I have met so many loving people, but the meeting with you both has lift me up. I dare to face life again…'
To BE with the people here has enriched my life. My heart was already open, it is even more open then before. I did not came for them. I am here in the first place for myself. If God is willing – Inshallah – we will go back by the front door – straight into Moria Camp. I like to do what I did everywhere: People learn to live together in PEACE.
Unknown makes unloved. Or as Sham told us: I am raised with hatred toward Israelis. Here I discover that Israelis are lovely people too.
A terrorist is brainwashed and lost HimSelf. He never reached his inner Source – I will call Love…
---
Part 2. The drame of Sham from Pakistan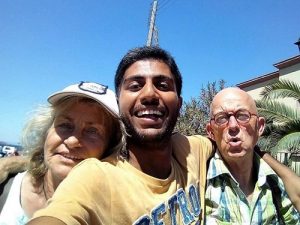 When you kill someone, you will kill everyone
When you save a person, you will save everyone
– Sham
The story of Sham has been stripped of self-pity, though he shows his emotions clearly when he talks about his parents. He wants to protect them – he does not like them to know the situation he is in…
---
The situation in Pakistan is not safe. You can find information on the Internet. I limit myself to Sham.
A brother of Sham and his uncle get killed. Others were tortured so they lost limbs. We know these stories from Kashmir, where the current situation – according to Sham – is worse than ever.
His family brought money together and he found a smuggler who should bring him safely to Europe. In Iran, he was kidnapped and tortured. Burns from hot iron are clearly visible on his back and arm. Eventually he get handcuffed and blindfolded left in the bush. He managed to free himself, got help and continued his journey. He went without too many problems through Turkey and reached seven months ago Lesvos. Finally free! Two days before they closed the borders…
Sham is Muslim and computer specialist. He meditates and write poems to transforms his trial.
His suffering is not over
A group of volunteers open a wonderful camp in the bush. There are 1500 refugees and no fences. Suddenly, with European funds, they restored the huge prison next door, including fences and barbed wire. The existing camp is dismantled. Five hundred Pakistanis go into detention. They will be sent back to Turkey. That is the end, Sham knows. He finds out when the guard is asleep and escapes. With blankets he climbs the high fences with barbed wire. He hides a month in the bush. Keeps alive by boys from the camp. If the detention order expires Sham returns to the camp through a hole in the fence.
He is not complaining about food or anything else. I feel that he is risking his life. But he likes to do what he has to do…
After an intense talk Sham leads us around the prison. It is a horrible place. Pope Francis called it during his visit the greatest shame after the Second World War! Caringly Sham puts his arms around my shoulders as if he likes to protect me…
Sham is never complaning. He is going for his asylum for Greece even if he knows he can sent back to Pakistan. He likes to enter by the frontdoor…
Part 3. A fortnight in Lesvos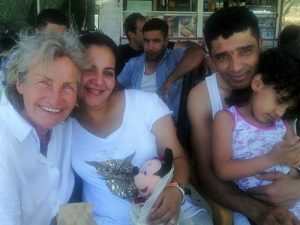 Dogs, cats and pigeons. They fit naturally into the streets. Like the Romans, which, however, are left to their fate and try to scrape by begging their food. Refugees do not beg. We meet wonderful Greeks and volunteers from all over the world who seek us to ventilate their frustrations about their organization. The Greeks are the most lovable people I ever met. In every way life is more relaxed than in our country.
---
Without knowing anything I feel I need to go to Camp Moria, the hell of Lesvos. We defy the enormous heat and meet many people outside the gate or on the way. Sometimes little miracles happen: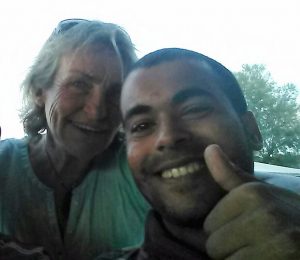 Like the family of Syria which we encouraged to move to Kara Tepe. Despair transformed into joy.
Haslo from Guinea with his open heart who wants to tell his children what life is like in Europe.
Basil from Jordan who has a spirit the world can float on. We eat together with his Syrian friends at Kara Tepe – of course with our hands.
Osama from Egypt who leaves his wife and child behind to find a way to make a living for them. He calls me his teacher and tries to learn English as much as possible during the meal we share. He wants to go to his brother in Italy. "Please, take me on the boat," he asks. Unfortunately, even that is not possible.
Our friend Jafar from Afghanistan, together with his brother, survived the trip under a truck and arrived safely in Switzerland – thank goodness!
Part 4. The old hospital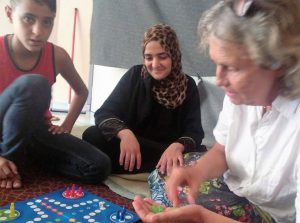 Back in Pireaus we are surprised by the heat and pollution of the city. We get told that we did better not to go the old hospital in the heart of Athens where our friends are, because the project is taken over by the Mafia. We just go. Without exeption our friends are very glad to see us. But the spirit seems disappeared. The dullness even struck at Fatia, the undefeated power of Piraeus…
What a drama! The project started by an English couple initially for Syrian families after the conclusion of Pireaus, has been taken over by Syrian youth. They steal food supplies and medicines collected by volunteers and convert them into alcohol and drugs. For days there is no food. Today we will eat together and we will bring some money to our families who have a hard time. Samir even thinks about going back to the war in Syria after more than half a year in Greece and no place to go. Even not to his daughter in Germany. Life here is too hard and too hopeless, he says…
According to Sham America and Russia are the culprits. They create refugees and saddle them onto Europe.
Anyway, a massive migration is taking place. Good or bad, we will have to learn to respect and to tolerate each other. The only way to do this is to walk the way my SELF…
Every day I get touched until my soul,
Om Shanti – Let US live in Peace
Yasmin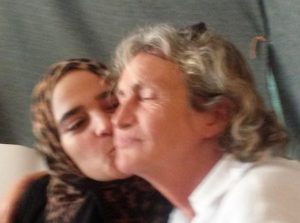 ---