We stay on the Kenya-Tanzania border. The chaos, dirt and stench of Mombasa and Likoni make room for order and cleanliness. The traffic is orderly and controlled and the bad road suddenly changes into a brand-new one with stripes and even room for cyclists. Here everything is to arrange for money and thanks to that I have vaccination booklets for both of us. Without yellow fever injection you are not aloud to cross the border…
– Clean, tidy and safe driving on the road. Spotless public toilets. Good working banking systems, real electricity pylons…
Bagamoyo
After two days in Dar es Salaam wo go to Bagamoyo: the slaves bastion on the mainland. A nice place where art and music occupy an important place and I finally find back the djembé! For 10 shillings you buy yourself a cup of coffee and a cookie on the beach. Delicious! The local population – usually Muslims – populate the beach. Surprisingly girls and boys mingle freely with each other.
My plan to cross with a Daw (fishing boat) to Zanzibar seems not possible. After a few days on the turbulent sea, I understand this all too well.
People here are not interested in muzungu's. After independence, they throw them out. Tanzanians barely speak English. Swahili is their language. This is a setback they now try to overcome since they have a capitalist government. The good thing of it is they seem to have more self-esteem then in Kenya-Mombasa. The benefit for me is that I am not seen as the one who have to save them…
Zanzibar
Back in Dar es Salaam, we take the ferry to Zanzibar. As a rare white one, Mr. Pipe takes cares for me and he does it in such a delightful way I can really enjoy. On the other side we find a nice Hostel in Stone Town. For a few days we enjoy the old Arab town and its narrow streets.
Dennis is disoriented. He was never out of his region and he wanted to go home! Slowly he begins to enjoy. The disturbances caused by his environment in Kenya is clearly not present here!
Stone Town
Stone Town is not clean and is mostly populated by the descendants of Arabs, Muslims. Last Sunday the second priest was murdered here. Nobody takes the responsible for that. Always it is done by people from outside! Also here in Zanzibar tourism decreases.
Even if you do not see any tourist in the fishing port, it is my absolute favourite. It smells of fresh fish and is simultaneously a true SOURCE of LIFE…
Dala Dala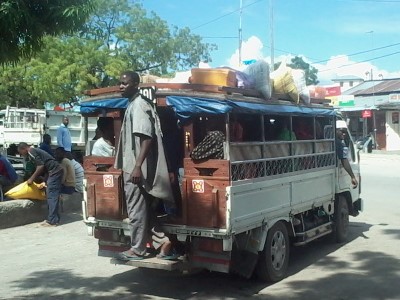 We leave behind the small suitcase in the Hostel and proceed with our small pack bags three days to Kizamkazi and Paje. We take the Dala-Dala. One of the highlights of my trip. The conductor stands behind the footboard and is mimicking from footboard to the roof where he piles the luggage ever higher. Cosy packed together there is an intimate atmosphere. Words are not necessary. I get a baby on my lap and feel at one! Four hours stopping and going is a bit long. My bum is sore but local transport is not only cheap, it is my favourite way to travel!
Kizamkazi is a fishing village where we see dolphins, but not in the way I wanted. Unfortunately, the fishermen are not aloud to take us! In the morning the fishing boats are coning back and they bring ashore an size of biggies I never saw before! Paje is beautiful and not very touristy, but I am not looking to great beaches.
Lushoto
After a week we take the ferry back. This time it is not going without struggle. But in Dar es Salaam there is Mr. Pipe. He has already seen me and leads us to a taxi willing to take us to Ubundu. From there we can take the bus to Lushoto.
The rainy season has started. We end up in a big traffic jam. Our taxi driver wants to be smart, deviates from the road and we are literally stuck in the mud. Here is a solution for everything. By joining forces, a muzungu – white one – behind the steering wheel, children and people who push for a little pocket money, we get out again. We stay overnight in Ubungu.
The last part of the 7 hour bus ride to Lushoto is spectacular. We are transferred sequentially and crammed into a small van, which funnily enough never bothers me here in Africa! Easily we find a lovely hostel and I enjoy unwise the coolness!
Waterfalls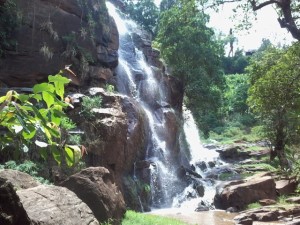 We rent two engine guys and have to wear the mandatory helmet. (Here it is not aloud with three of four people on the motor!) The guys bring us thirty kilometres into the mountains to the rainforests and the waterfalls. I send them home, we'll see how we get home. We enjoy the atmosphere from forest and waterfalls and walk the whole way back to the main road. Moments later it starts to rain cats and dogs and in no time we are soaked to the bone. We still have a thirty kilometres to go! We drink hot tea under a shed. The rain gets lesser. I do not like to get cold, so we have to walk! After one and a half hour and a lot of fun a van is stopping. Soaking wet I plump down in the back next to Jake. Fifteen minutes long I have a true encounter. Jake is from the USA, broadcasted stationed in this place without knowing before. Life among the mountain people he did not understand but who stretched two open arms toward him changed his life!
Reluctantly we leave Lushote after three days and travel to Tanga. No, there's nothing. TO clean, TO western. You can cross the street with closed eyes. I miss movement and colour and I realize how this heat is affecting me!
We take the bus back to Kenya. After the border the order and beauty changes in chaos and at Likoni, the stench, the heat and the dirt are coming towards us. But also life. After the ferry we take a matatu to Majengo. When I get out, the boys have already seen me. 'Karibu tena – Welcome back Mama Africa: One Love – One Tribe' yell the engine guys. I can not make a phone call, so we just take the first two guys. I do not know them, but she know me. Their concern is heart-warming. We pass my village. Men and women evoke a warm welcome. Several times we has to stop, even the village elder will greet me. The children shout a cheerful Jambo. Chai is in his pub and is beaming from ear to ear…
Home
Outside the gate, I meet some guys from my place on their way home. Cuddling and greetings. 'Everyone loves you', says Stephen. 'Because you love people'. And yes that is absolutely true! My room is spotlessly clean and there are even two vases of flowers. It touches my heart! Tired and sweaty we immediately dive into the pool. And then there is Faithy. She has heard that I am back. We play and cuddle in the water. This is life with CAPS. To be honest I do not want all that shaking on motorcycles anymore. The sea at this spot is not special at all, but undeniably this is my home…
The situation in Kenya from 2007 has repeated itself and is worrisome. People hide themselves for a week. Schools and shops were closed. Gently life begins to move again but everyone eagerly awaits if there will be new elections to come. And when that happens, well I prefer not to think about this…

I greet you from my HEART
Yasmin – Mutanu
---